1200-Hour Hair Design Program
Have a passion for hair? You can pursue an education in hairstyling in our 1200-hour hair design program. Unlike our 1500-hour cosmetology program, this program only has courses in hair, including hair cutting and styling techniques, hair coloring, and more. Do what you love and create stunning looks that are sure to sparkle!
Learn All About Hair Design in Ohio
Since this program is focused on hair, students will get an in-depth look at a variety of hair techniques that can help them with a future as a licensed hair designer in Ohio. Hair design and cutting, color techniques, and hair sculpting are some of the skills you can expect to learn as a student in this program!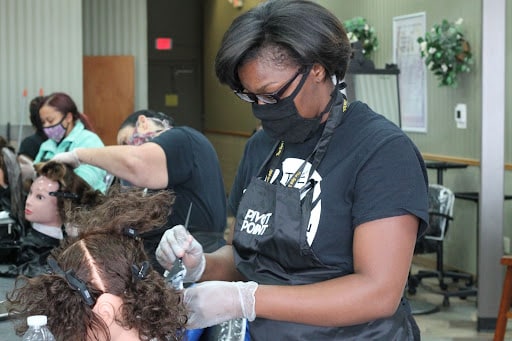 What To Expect at Salon Schools Group
Our passion is helping students achieve their dreams! While we focus on the required skills like hairstyling, hair cutting, and hair design, that's only a small portion of what you can learn. As a student at Salon Schools Group, you can learn basic anatomy to understand how a client's face shape affects the style that looks best for them. You can also learn basic chemistry and an overview of how products interact with their hair.
These concepts are crucial to your hairstyling education, because understanding how to care and style hair can help you keep clients coming back to you again and again!
Once you have the techniques down, then it's time to build the business and marketing side of the beauty industry. In this program, students can practice what they've been taught on our clinic floor with real guests. All students will be supervised by a trained professional, so they can get expert advice whenever they need it. You can run a successful consultation, and recommend products your guests can use to replicate their looks at home.
What Can You Do With a Hair Design License?
What you do is up to you! The beauty of an education in hair is that you can have the flexibility to work in a salon or pursue a career elsewhere. As part of an education at Salon Schools Group, you can gain the support you need to do what you love! While we can't guarantee employment, we're always willing to lend a helping hand with career resources through school sponsored activities and internships with salons in the area.