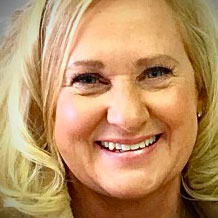 Vice-President, Student Aid
Cheryl Halblaub
When nature calls, she answers! Wait, that doesn't sound right…she LOVES nature! Give her a body of water and she'll swim it; a plot of land and she'll camp it; a furry friend, she'll pet it.
Give her a student with a financial aid problem and she'll solve it! At Ohio State School of Cosmetology and The Spa School she's our Vice-President, Student Aid.
Her extensive background in Federal Financial Aid programs and legislation makes her an invaluable asset to our staff and, especially, our students. In addition to her work family, Cheryl enjoys a loving family full of children and grandchildren. Bonus? She's super sweet!