July 22, 2019
80+ Years of Beauty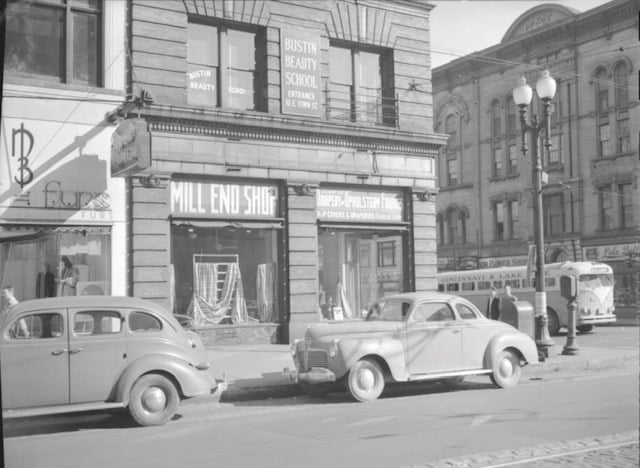 From Bustin Beauty School back in 1936 to the Salon Schools Group, Ohio State School of Cosmetology, and The Spa School network we are today, we have been able to help countless aspiring beauty professionals find their paths. Did you know that we used to have beauty school dorms? Or that The Spa School was one of the first esthetics schools in Ohio? Take a walk down memory lane with us and discover how our schools came to be!
How it All Started
Back in the 1930s, the Bustin sisters opened Bustin Beauty School in downtown Columbus. Cosmetology was just beginning to become a serious profession, and it only grew as more and more women went to work during World War II in the 1940s. Cosmetologists had access to electric tools and products that were not available to everyone, and hairstyles were becoming too complex for women to do at home. Bob haircuts became popular, and women regularly went to the salon to keep their short hair looking chic.
After changing name and ownership, Bustin Beauty School became the Ohio State School of Cosmetology in the 1950s. In 1968, Mr. Rogers became Director of the schools. He is now Chairman Emeritus and is still involved with the school to this day.
A Center for Learning
Mr. Rogers recalls that when he became the schools' Director back in 1968, the Ohio State School of Cosmetology in Columbus was 12,500 square feet. It was very large for a beauty school, especially at that time. The school eventually included dormitories that could house 80 students coming from out of town! They provided housing and transportation so that students could travel to the eventual branch schools in Columbus for training. "It was totally unique," he says.
When he first started at Ohio State School of Cosmetology, Mr. Rogers recognized many of the clients coming into the student clinic were older women looking for the
1930s and 1940s types of hairstyles. Meanwhile, students needed to be learning to do the bouffants and Jackie Kennedy inspired hairstyles of the late 1960s and early 1970s.
The 1970s were years of expansion. Branch schools opened in suburban areas. It was very important to Mr. Rogers that students learned the modern, trendy styles in school so that they could be prepared to work in stylish salons after graduating.
The schools opening in the 1970s were in the more expensive, up-and-coming areas of Central Ohio. They could have saved money by opening in less expensive parts of town, but it was important to Mr. Rogers that the students learn hairdressing with younger, trendier clients.
A Focus on Modern Education
Teaching the latest trends and techniques has always been important to the leaders of Salon Schools Group, Ohio State School of Cosmetology, and The Spa School. Sue Carter Moore, currently President Emeritus of Salon Schools Group, Ohio State School of Cosmetology, and The Spa School, was an instructor while Mr. Rogers (now Chairman Emeritus) was the Director. Ms. Moore trained at Vidal Sassoon in London and San Francisco and with Paul Mitchell in NYC, as well as John and Suzanne Chadwick, which was unusual for the early 1970s. She brought that education back to the students.
Over the years, providing students with the latest techniques has been very important to the instructors and leaders in the Salon Schools Group, Ohio State School of Cosmetology, and The Spa School as trends change.
"We are local. We grew up here in central Ohio and we understand our marketplace and the industry. We are cosmetologists! We went to beauty school!" Ms. Moore says.
Ms. Moore and other Salon Schools Group, Ohio State School of Cosmetology, and The Spa School leaders have chosen to stay independent from corporate school groups. They believe choosing their own curriculum and exposing students to many different types of hair, skin and nail products prepares them to become more salon-ready than students who are limited to using only one product line.
Beginnings in Skincare
Ms. Moore was one of the first in the area to see the power of skincare. Esthetics only became a separate license from cosmetology in the 1990s, and many people did not recognize its potential. Esthetics was expensive to get into, but Ms. Moore took it seriously and opened The Spa School.
"You'd have trouble finding other schools that get as close to medical training as you can get at The Spa School," Sue says. "Students are sought after by plastic surgeons and dermatologists to perform skin services in medical offices." Other schools which saw the value in skincare training later on did not have the planning and technology to offer such a thorough program.
Ms. Moore says that their skincare course is "thorough and difficult, and it uses professional equipment found in doctors' offices." Training includes microdermabrasion, dermaplaning, chemical peels, and other medical spa treatments. At Ohio State School of Cosmetology, cosmetology students also graduate with knowledge of spa facial and body treatments in addition to their cosmetology training. "They are very much in demand," Ms. Moore says, and is proud of the spa areas found in each cosmetology location.
Where We Are Today
Today, there are four Salon Schools Group, Ohio State School of Cosmetology, and The Spa School locations: Heath, Canal Winchester, Marion, and The Spa School in Columbus. Sue Carter Moore is President Emeritus of the schools and remains committed to preparing students for their careers with modern and practical training.
If you're ready to attend a beauty school with a local background, professional training, and passionate instructors, Ohio State School of Cosmetology is the one for you! Please get in touch to learn more about cosmetology, esthetics, nail technology and all of the options available to you in the world of beauty.