January 31, 2023
How to Become a Nail Tech in Ohio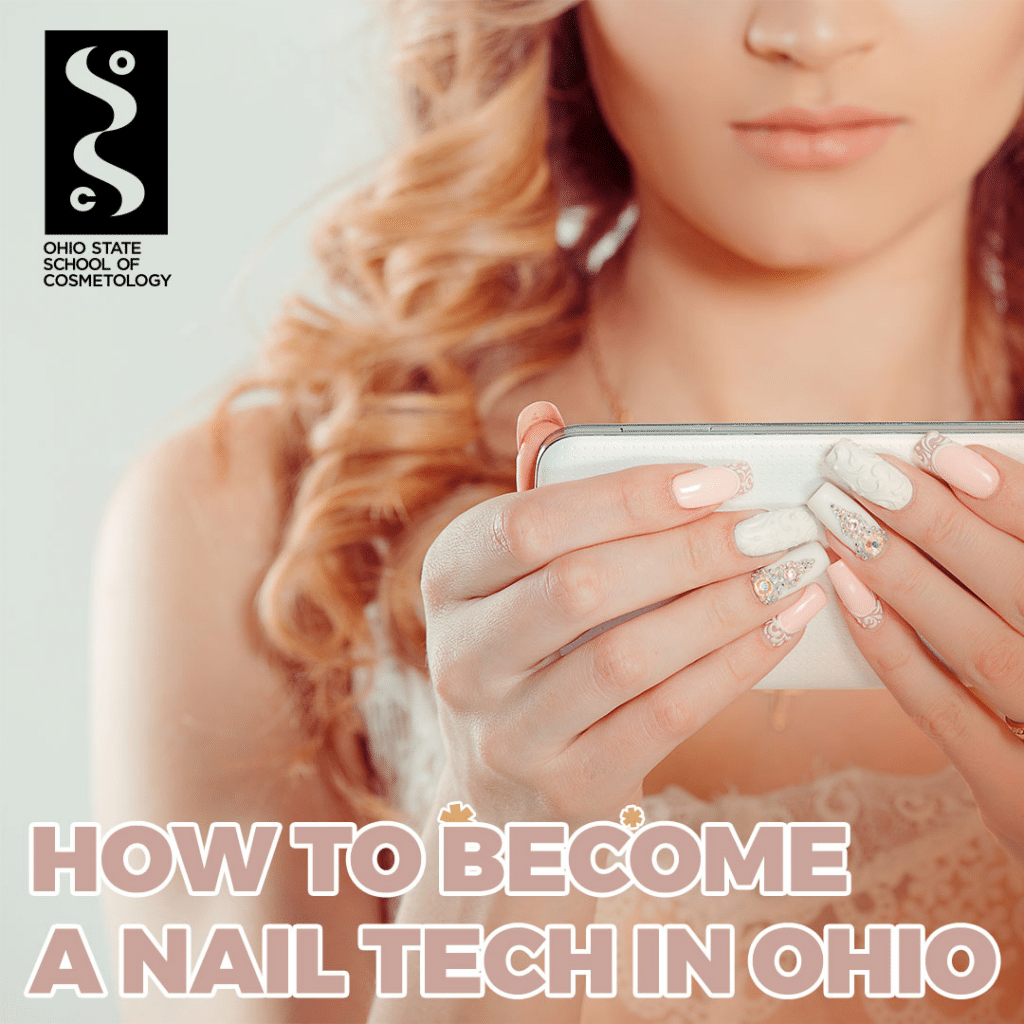 Do you enjoy art and being creative? Becoming a nail technician could be the perfect career for you! If you're interested in learning more about what it takes to become a nail technician in Ohio, keep reading! We're going over all the steps needed so that you can pursue your dream career in Ohio!
It's important to note that specific regulations for nail technicians and licensing may vary by state!
Enroll In A Program
A quality education is the first step to being a successful nail tech! In our 300 hour nail tech program, you can learn the basics of hand and foot care through theory-based and practical learning! You can expect to learn:
Artificial nail application and removal
Men's manicures
Nail wraps
Nail tips
Nail repair
Hand and arm massage
Nail cosmetics and ingredients
Basic and hot oil manicure procedures
Application of polish
Product and sales training
Client consultations
Career and employment preparation
And more!
In addition to the technical requirements, you may want to consider developing the following skills and qualities to be successful as a nail technician:
Strong communication skills: As a nail technician, you will be working closely with clients. It's important to be able to communicate effectively and build good relationships with them!
Attention to detail: Nail technicians must pay close attention to detail when performing services. You want your clients to be happy with the final result and this will help with that!
Creativity: Many clients look for nail techs that can create unique and beautiful designs. Being creative and keeping up with the latest trends can help set you apart from other technicians.
Strong work ethic: A strong work ethic is essential for success in any career!
What To Expect From Salon Schools Group
Our goal is to help all our students achieve their dreams. We aim to prepare you for your future career by teaching you everything you need to know to become a skilled nail technician. We combine classroom instruction with practical training so that you can be ready to jump into the exciting world of nail technology.
Pass Your Exam
Once you have completed your education, you must pass a state licensing exam! This exam will test your knowledge of the theory and practical skills required to become a nail tech. The nail technician practical exam will consist of 4 areas:
Set up and client protection (15 minutes)
Basic manicure (25 minutes)
Nail tip (20 minutes)
Sculptured mail (20 minutes)
For a better understanding of what to expect on exam day, watch this video! It was designed to show candidates what to do upon arrival and how your day will flow. This will give you better insight into the facilities and process of the exam.
Obtain Your License
Now that you have passed your exam, it's time to apply for your license! You can apply here once you create an account. You will need proof of your education and passing of the state licensing exam.
Start Your Career!
You've done the work and now it's time to reap the rewards! As a licensed nail technician in Ohio, the world is your oyster! There are a variety of salons and spas where you can work! What you do with your license is in your hands now! You have the option to:
Work in a full-time service salon
A high-end spa
Work toward owning your own salon
Renew Your License
Don't forget to renew your license! Nail technician licenses in Ohio must be renewed every two years on odd-numbered years.. To renew your license, you will need to complete eight hours of continuing education. The fee to renew your license is $45.
Ready To Get Started?
Does becoming a nail technician sound like a dream job to you? Let's get you started on the process! Contact us today to find out more about our program or to ask us any questions you may have regarding your education! Once you get in contact with us, we can schedule a tour at one of our 4 locations and get you started on your dream career. We can't wait to hear from you!