October 12, 2022
How to become an esthetician in Ohio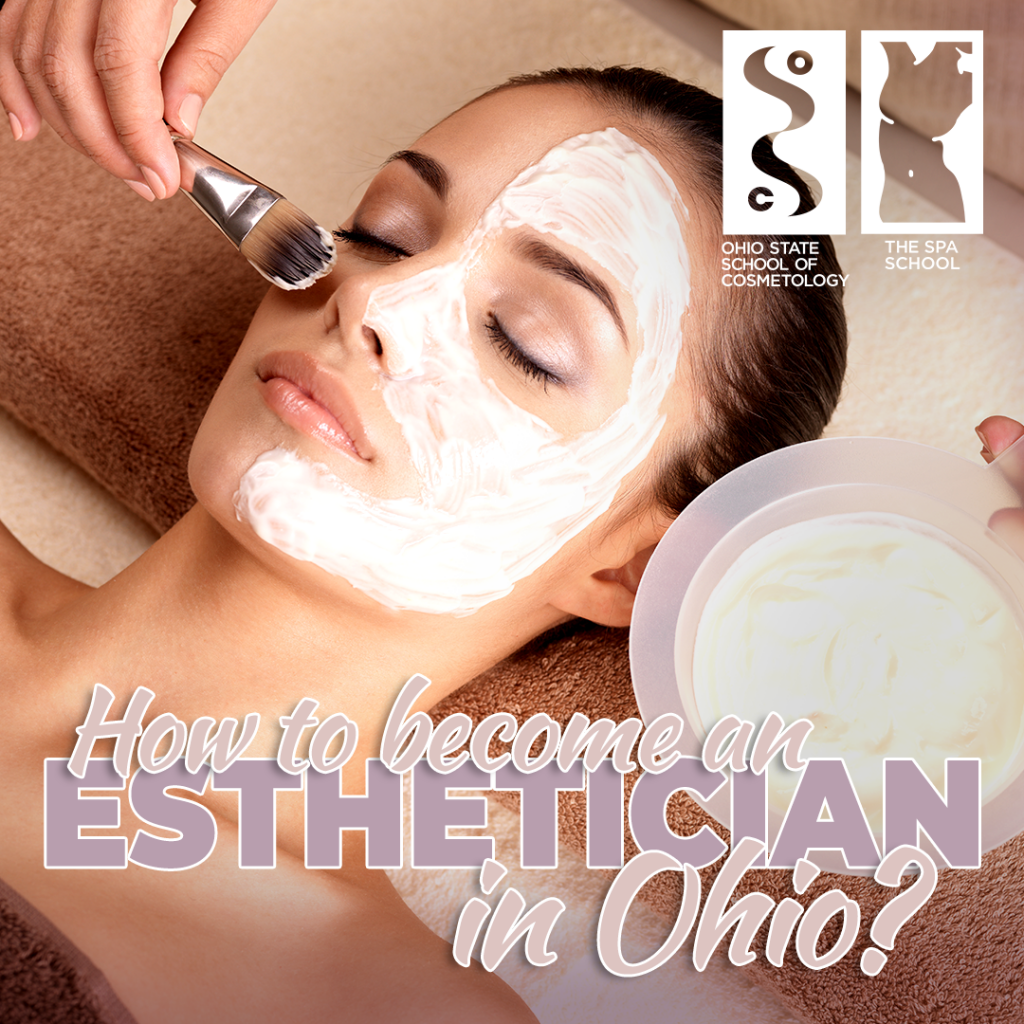 Have you always dreamed of becoming an esthetician? We're here to help you turn your dreams into a reality. Pursuing a career in the beauty industry can seem daunting at first.  We created a step-by-step guide to becoming an esthetician in Ohio.
Every state has its own licensing requirements so we'll dive into what's required in Ohio.
Complete a State Approved Esthetics Program
Your first step to becoming an esthetician is to attend an accredited beauty school. To get your license, you must complete at least 600 hours of training. The Ohio Board requires a minimum subject and hour requirement:
Sanitation and Bacteriology (75 hours)
Anatomy (70 hours)
Specialized Equipment and Treatments (40 hours)
Massage (70 hours)
Chemistry (40 hours)
Facial (80 hours)
Skin (70)
Makeup (95 hours)
Salon Operations and Communication (40 hours)
Ohio Cosmetology Laws and Rules (20 hours)
Find the right school for you
At the Spa School, our students' success is our top priority. We want you to succeed and flourish in your potential career in the beauty industry. The goal of the program is to prepare you for a career in the beauty industry.
What you can learn:
Facials
Waxing
Makeup Application
Dermaplaning
Microdermabrasion
Eyelash Extensions
And more!
We also have a Student Spa where we offer hands-on training. This allows students to put theory into practice. Students will take on real clients and apply their knowledge to real-world settings.
Take and pass the Exams
Now that you've found and graduated from an accredited beauty school, it's time to take and pass your exams. The Ohio Board will issue you a work permit as you are getting scheduled for your exams. This allows you to work as an esthetician before you take your exams.
The licensing exams consist of  2 parts: the practical and written exams.
Practical exams
For the practical exams, you will perform different esthetic services on a mannequin. For this exam, the board will test you on these skills:
Set up and client protection
Cleansing/steaming
Extractions
Hair removal
Mask/massage
Written exams
The written exam will consist of 110 multiple choice questions and you will have 90 minutes to complete the exam. You will be tested on the following topics:
Principles of Infection (45 questions)
Electricity/Chemistry (10 questions)
Anatomy (15 questions)
Esthetics Procedures and Practices (30 questions)
Pilot Questions (10 questions)
You will have 5 years after you graduate from esthetics school to complete and pass your exams. If you let this time pass without getting your license, you will have to retake esthetics school. But we've designed our curriculum to help you be ready to pass those exams and we're confident that you can do it!
Start your career
Congratulations, you made it through the hard part! Now it's time to put your skills to work. The beautiful thing about esthetics is that you can choose from so many different potential careers. Some ideas are:
Skincare specialist: As a skincare specialist, you will most likely be working in a salon or spa. Your main priorities will be to help improve the appearance and texture of the skin.
Salon or Spa Manager: Once you work at a salon or spa, you can work your way up to a manager position.
Makeup Artist: Being a makeup artist can be a very broad job with lots of different opportunities! You can do anything from styling someone for their special event to makeup for Halloween.
Esthetician Instructor: Every student needs a teacher. Once you become an esthetician, you can help others do the same.
And more!
Continue your education
Every year by January 31st on odd-numbered years, you will need to renew your license. You are also required to complete at least 8 hours of continuing education to renew your license. Those 8 hours might be in skin care, relaxation massage, or salon and spa business.
Once you are done with those hours, you can renew your Ohio esthetician license here.
Get started today
If you're ready to take the next steps in your dream career, reach out to us today and schedule your tour. There are so many opportunities out there for you in the beauty industry and we're excited to see where it takes you. Better skin is on its way!