July 28, 2022
How To Create A Killer Instagram Beauty Profile During School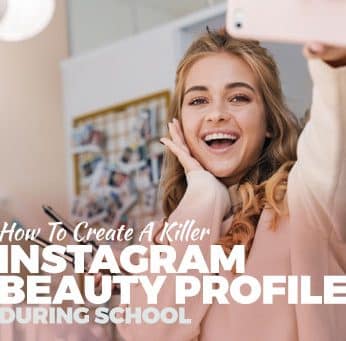 Beauty professionals rely on social media to grow their business now more than ever. But what do you do when you're just starting out? Seeing the numerous beauty accounts, trends, and content can be daunting for someone new to the industry. That's why we've created the ultimate how-to guide to social media for students in beauty school. Keep reading to learn how you can create a killer Instagram beauty profile as a student!
Discover Your Audience
We recommend that before you create any social media account, you know who your target market is. Your target market will help shape your brand voice and what type of content you post. So, ask yourself, "Who is my audience? What are their interests/challenges?" and then tailor your content to them!
For example, popular trends and affordable products are great content for young adults as many of them may be college students living on their own. Higher-end products and classic styles are probably popular for older generations who tend to be more settled.
Posting Schedule
What's Instagram without the posts? Sharing content is the key feature of this platform so take advantage! Frequent posting is important to stay relevant and engaging, but over-sharing can overwhelm or bore followers. When you're new to social media, we recommend posting to your feed/stories frequently, about 5-7 times a week. As you grow a following, daily posting becomes less crucial. That being said, post when it feels natural to you! People appreciate authenticity and you don't want to get burned out by doing too much.
What to Post?
Instagram offers a range of posting format options available to you through reels, photos, and stories! Before & after photos are perfect for building your portfolio and showcasing your skills. This allows potential clients or employers to see your skills and want to work with you. Clever captions and popular hashtags are great ways to keep your followers engaged and reach a wider audience on the "Explore" page. You can research possible hashtags to see what's currently trending, and use them where applicable. You should also focus on hashtags specific to your work and brand. (The hashtags #nailgoals or #cleanskin wouldn't necessarily make sense for a hairstylist, but #hairtrend or #balayage would.)
Posting some of your favorite tips, tricks, or products is another way for you to help your clients. It's not always an option for clients to visit their beauty professional as much as they would like. This is why it's important to create ways for them to take care of themselves in between visits. You can help educate your followers with at-home tips, product recommendations, and demonstrations. Some options include:
Tips to keep your hair healthy
Cute nail trends for the winter
Products that protect your skin in the sun
Fun makeup looks for prom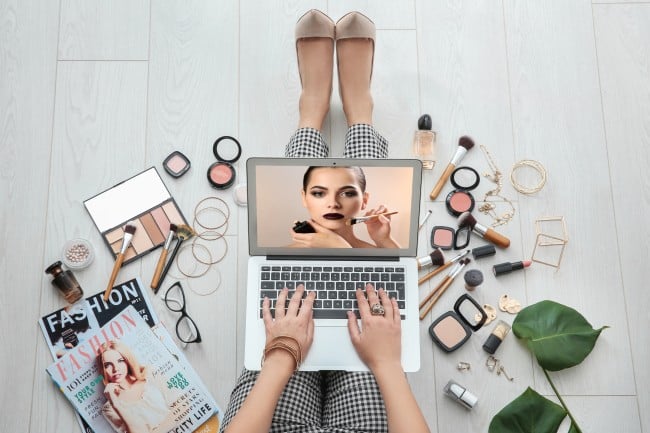 The options are endless, so find the content that you enjoy sharing and that makes sense for your brand. But whatever you choose to post, be sure to make it positive and engaging. Create content that your followers can comment on, react to, and enjoy seeing. Be positive in your interactions, and remember to be appreciative of clients and followers.
Bonus Tip! Don't be afraid to share your personal achievements or facts about your life, like hobbies or travel. After all, social media is all about connecting with friends and followers!
Highlights
Take advantage of the Highlights tool on Instagram. Highlights are a great way to showcase products, services, and other information in an easy-to-find format. Possible highlights could include salon information, work examples, pricing, or your favorite products! Be creative and think about what can be most beneficial to your audience.
Having highlights with cohesive covers creates a strong communication between you and your followers.  Future clients can easily see what you've done, and get a read on your style to see if they want to book you. Highlight covers can be easily created on apps like Canva or Adobe Spark Post, and usually for free!
Build Your Community
Having a community on Instagram is another great way to build your brand. Follow and interact with other beauty professionals or salon accounts to build your community. This can help you network yourself, make friends, and generate ideas of what to post–just make sure to give credit if you're following someone else's trend. It's better to create a community with those in the same field than to compete with them. Be a positive influence and lift people up!
Interact with Followers
Interacting with your community is a great way to grow your audience! Simply posting fun content to your account isn't enough on social media anymore. Interacting with your followers and clients is one of the best ways to build your brand. People want to find connections on social media, and building those connections with your clients is a great way to create trust, friendship, and a strong clientele. People want to know and trust their beauty professionals! 
Besides building relationships with clients, social media posts with more active and thoughtful interactions get more reach. Not only will you create trust with your current clients, but you can also attract more potential clients when you engage with your audience.
Ready to Get Started?
Now that you have a basic understanding of how to build your social presence, you're ready to pursue your dreams of beauty. Salon Schools Group offers programs in fields like cosmetology, esthetics, and more, with locations across Ohio! Contact us today for more information. We can't wait to help you get started on your journey.