June 21, 2019
Financial Assistance for Beauty Students
Have you dreamed of an education in beauty but wondered how you could afford it? Here at the Ohio State School of Cosmetology (OSSC) we believe anyone with a passion for beauty should keep reaching toward their dreams! We offer federal loans and grants to those who qualify, and we're proud to give away thousands of dollars in scholarships. After learning about the different financial assistance opportunities that may be available to you, your dreams and goals might feel closer than you thought.
Federal Aid
Because our schools are accredited, we are pleased to offer federal financial aid to those who qualify. The amount and types of aid you are eligible for are determined by the government, not our schools. After you submit a Free Application for Federal Student Aid © (FAFSA) you will see which loans and grants you are eligible for. If any of this sounds confusing, don't worry! Our financial aid administrators are eager to help you figure it all out.
Pell Grants
The difference between a grant and a loan is that grants do not have to be paid back, but loans need to be repaid. Pell Grants are the most common type of grant and are determined based on financial need. The information on your FAFSA© will determine how much aid you may qualify for.
Student Loans
In addition to grants, the government also offers various types of loans. Two main types are subsidized and unsubsidized loans. With each loan you do not have to repay the loan amount until after you've completed your education. However, with a subsidized loan the government pays the interest while you're in school. With an unsubsidized loan, that interest will be included in the loan payments after you finish school.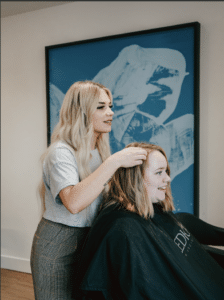 Scholarships
Are you a high school senior? You could qualify for a scholarship! Unlike loans, scholarships do not have to be repaid. They also come from the school, not the government. Just wait and see how easy it is to apply!
Cosmetology Standard Scholarship
We care about our students and want to help them pay for their education. Seniors enrolling in a cosmetology program who meet all requirements can receive a $3,000 scholarship! There is no application required and no minimum grade point average requirement. An additional $500 will be awarded if you enroll before December 31 of your senior year.
So how do you make it happen? Here's what you need to do:
Be a high school senior
Make an appointment with our friendly admissions representatives
Enroll in our full-time 1500 hour or 1800 hour Cosmetology program
Start your course the same year that you graduate from high school
It's that easy!
Cosmetology Academic Merit Scholarship
This scholarship can be up to $2,000 in addition to the $3,000 standard scholarship. To qualify, you will need to have a cumulative high school grade point average (GPA) of 2.5 or higher.
Here's what you need to claim this scholarship, in addition to the previous requirements:
Fill out and complete the requirements of an Academic Scholarship Application
Have a 2.5 or higher high school GPA
Esthetics Scholarship
Any future estheticians out there? We want to recognize our esthetics students and help them succeed. We offer a $2,000 scholarship to our esthetics students who qualify! This is similar to the Cosmetology Standard Scholarship in that there is no application or minimum GPA requirement.
To qualify for this scholarship, you will need to:
Be a high school senior
Make an appointment with our friendly admissions representatives
Enroll in our full-time 750-hour Advanced Esthetics program
Start your training the same year that you graduate from high school
Achieve Your Dreams
We don't want the price of an education to keep you from chasing your dreams, so we want to help. Our financial aid administrators know all about loans, grants, and scholarships. They're here to help make your education as affordable as possible. Contact us today to learn about which financial assistance opportunities you may qualify for. Remember, it doesn't hurt to ask. You might be surprised by how affordable beauty school can be!